Different Styles of Nail Art
There are many different styles of nail art. Fluorescent hues, 3D nail art, Feature nails, and Symbolic designs are just a few. Try a marbled effect if you're looking for a little extra zing. Although tricky to achieve without a pro's help, this look is gorgeous once you get it. If you don't want to spend a lot of money, a basic French manicure is still a safe choice. Try glitter or contrasting colors for a bit of style.
Symbolic nail art
Whether you're a Pisces, Capricorn, Gemini, Leo, or Cancer, your sign has a corresponding nail design. Astrology is a fascinating subject, and an astrology manicure will remind you to focus on the positives in your life. Daisies are perfect for this theme, as they symbolize happiness and joy. Use your favorite color to create your design, or go for a contrasting color.
A cactus, for example, represents protection. Combined with a white base coat, the cactus is unique and eye-catching. If you'd like a little more symbolism, add floral details. Focus on your feature nail for added color and symbolism, such as the ring finger. You can also add flowers and gemstones, which add a touch of symbolism.
Adding stones to your ring finger makes this design elegant and classy. If you have a dark orange or brown nail polish, you can use a toothpick to make tiny circles on the nails. Add a few stones to the ring finger to complete the look. If you prefer a more simple design, consider using a light shade of pink. Alternatively, you can opt for a darker shade of brown.
Fluorescent hues
Whether you love bright colors or have a dark skin tone, fluorescent hues are splendid for your next manicure. These vibrant colors have a very high pigmentation and will definitely draw attention. This nail art style can also be applied to nails in a feature pattern or as an accent color. Depending on the intensity you want to achieve, you can also choose between different shades of fluorescent hues.
You can also combine two different shades of one color to create a marble or artistic design. One finger in one shade and the other in a complementary color will give your manicure depth and complexity. A great way to incorporate this style is to choose a neutral color and use the alternative tone for floral designs or marble patterns. If you are a complete beginner and would like to try out this nail art trend, consider finding a skilled nail artist who is experienced and can replicate the design for you.
Another great choice of nail art is mustard. A subtle mustard color can be worn on the nail for a more casual look. Yellow-toned green is also an excellent choice for all skin tones. This green shade can complement any other color, working well with a wide variety of different hues. Regardless of your skin tone or nail shape, you can pair yellow-toned greens with neutral tones to create a stunning combination of colors.
3D nail art
You've probably seen some pretty cool designs using 3D techniques if you're a nail artist. These manicures are much more than just nail polish – they feature extra details glued to the nails. These details can include jewels, flowers, lace, bows, and more! They can also be created with different nail gels used to sculpt shapes. No matter your style, 3D nail art is definitely one of the most unique options.
Creating 3D nail designs can be challenging, but it is worth it! 3D nail designs are a great way to add dimension to your nails. You can use acrylic nails for most of these designs, but you can also use natural nails. If you're looking for a nail salon that offers this type of nail art, try Lux's Nail Spa. These artists use various techniques to create designs that make heads turn.
Another type of 3D design is created using tiny decorative beads. These elements can be purchased in sets at a specialized beauty store. You can choose easy-to-apply decorative details like nail studs if you're a beginner. A 3D flower is a classic choice, but you can also try other types of 3D elements, such as words, jewels, and chains. Whatever you choose, you'll be sure to find a design that suits your personality.
Feature nails
Whether you're looking for something fun and colorful for a manicure or a unique way to accentuate your fingernails, feature nails are a great option. Using this nail art style, you can highlight a particular fingernail by focusing on its shape and length. You can get as creative as you want if you wish to paint every nail or just one.
One of the most popular feature nails trends is adding a logo to them. A logo that says something about you can be a great way to add flair to a manicure while showing your fashion prowess. While simple logos look elegant on feature nails, you can also choose a more elaborate design with 3D elements or multiple images. Feature nails are a great way to market a brand, too. Nail artists can design a logo for a company or fashion brand and add that to the nail design.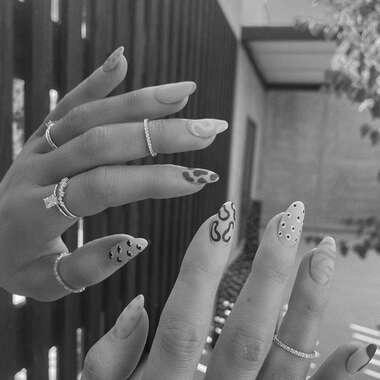 Feature nails with jewelry
Feature nails with jewelry are fun to add some sparkle to your fingernails. Heart nails will make your fingernails look more exciting and fun, whether trying out a different color or design. They are also a great way to draw attention to any exceptional jewelry you're wearing. If you're thinking of adding jewelry to your feature nails, here are some ideas for doing it.
Choose a famous fashion brand and have your feature nail adorned with that logo. If you want to express your fashion sense without breaking the bank, you can also opt for a simple, elegant logo on your feature nail. Or, you can make your feature nail extra bold with multiple images or 3D elements. Adding logos to your manicure is also a great way to promote a brand. Ask your nail artist to design nail art with your company logo to help you promote your company or a favorite brand.
White nails
If you're looking for a manicure that will be classic and fun, white nails are an excellent choice. They look beautiful on almost any skin tone and lend themselves well to creative designs. While white nails are prone to chipping, they are a perfect neutral color for everyday wear. And unlike black nails, white nails are more affordable and accessible than ever. So, if you're tired of wearing the same old black nails all the time, try a white manicure instead!
White nail polish has many options and is perfect for appeasing all nail polish preferences. While it is neutral, it makes a statement all on its own. It flatters all skin tones and is seasonally appropriate year-round. In addition, white nails are a great blank canvas for nail art. Here are 20 of our favorite white polishes, broken down by finishes. You'll be spoilt for choice!
Try a celebrity-themed manicure if you're not sure what kind of design to choose. Marilyn Monroe's iconic look would be stunning on a white nail. A black-and-white image would go well with a bright white base. Try adding three-d white diamond accents to the pin to accentuate the bling. You can also try long ballerina nails that exude class and elegance. Pinkish white coloring will accentuate the rhinestones while giving the manicure a subtle glitz and glam effect.
Brown nails
If you're looking for a fall nail art trend, go for brown nails. Brown nail polish and brown pin press-on nails look great together. If you're not confident about doing your own nail art, opt for a simple brown manicure that will still be a hit. However, if you're unsure about the technique, you can follow our step-by-step tutorial for brown nails.
Another fun nail design is a simple brown French tip. This classic design has a subtle twist. The basic steps to create French information include applying a base coat of nude nail polish, applying a thin layer of brown nail polish, and using a dotting tool to draw a triangle or 'V' shape. Then, use a top coat to complete your design. The finished look is flawless!
If you want a sophisticated brown manicure, go for wavy lines. These simple designs are also perfect for short nails and don't require acrylics. You need nude nail polish, a liner brush, and brown nail polish. Then, apply a clear topcoat for a smooth finish. A brown nail design is sure to become one of your favorites! Once you've perfected the technique, you can try other nail art designs that involve brown color.
Can I See Nail Art on My Nails?
You can experiment with different designs and colors on your nails. This is possible when your nails are longer than your fingers. Mismatched designs can be an excellent way to show your playful side. You can create designs such as florals, stars, or smiley faces. Mismatched designs are easy to achieve, and you can try different colors. Here are some examples. You may also be inspired to try them yourself!
Colors
Fall is coming, and we're ready to play up deep jewel tones in our nail art. Deep royal blues, such as Chanel's Le Vernis in Rhythm, are perfect for nail art, and rich, neutral shades are perfect for fall. A rich, neutral beige, such as Brun Fume by Chanel, looks excellent with nail art. But if you want a darker look, consider a '90s grunge shade. Toffee beige Dulcet and a chocolate-toned brown like Toff are excellent choices, as are the darker, grunge-inspired shades. Whatever you choose, choose a color that compliments your skin tone.
In the winter, go for gunmetal. This metallic color pairs well with cool tones and looks very stylish. It's versatile, looks great on every type of nail, and works well on any shape. Paint the entire nail or just the feature. You can also pile on gold jewelry for a glamorous look if you're feeling daring. But be sure to wear warm-colored clothing to match the nail color. It's a perfect color to pair with metallic earrings or necklaces.
Grey is a versatile color and a classic color always in style. Light greys are perfect for warmer weather, while darker shades are great for colder months. Both shades compliment silver and gold jewelry and are easy to match with an outfit. You can always find a perfect matching necklace or bracelet to accent a gold manicure. And don't forget to check out our new collections to find your ideal nail art. The next time you want to show off your nails, don't forget to update your nail art to match the season!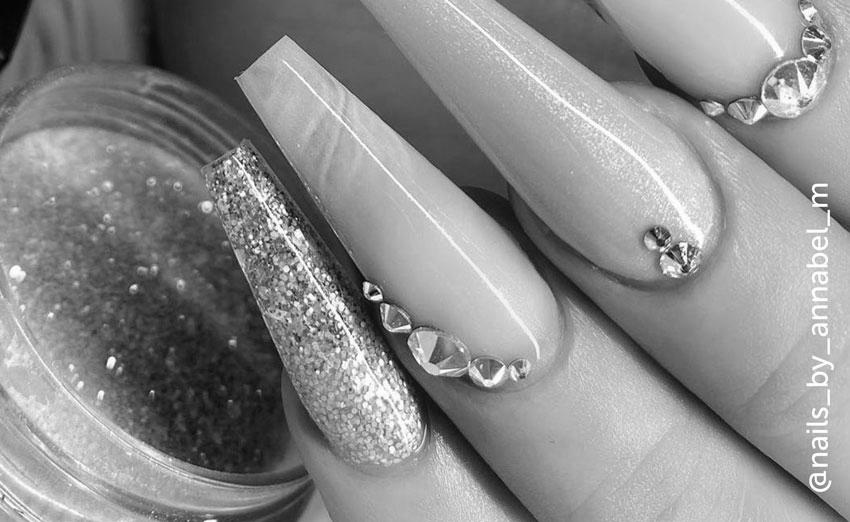 Summer is the perfect season for fun, colorful nails! Choose a color that makes you feel summer-ready. Bright colors in the summertime can add a fun and flirty look to your look. And summer nail colors are perfect for bringing out your inner sunshine! If you want to have fun and show off your personality, consider a coral or a yellow-toned color. And don't forget to experiment with pastels and light variations.
Styles
If you want to attract attention from others, try nail art. This trend is becoming increasingly popular, thanks to the creativity of nail artists around the world. Nail art can be used to add style and flair to an outfit, but it can also be used to express one's personality. Choose nail designs that match or contrast a business and create the desired impression. A few ideas to try include:
A classic combination of white and red looks stunning with any design. A white wave topped with a red tip seems particularly striking. You can create freeform or stencil this fun design yet direct effect. Red is also a great pop of color, and you can go for a bright red or a darker hue for a more contrasting contrast. Whether you choose to use bright red or blood red, these designs will make you stand out and turn heads!
The possibilities of nail designs are nearly endless, and your imagination is the only limit. You can choose plans based on your moods, including branded designs, tie-dye patterns, hearts, and even abstract images. Or you can opt for a more glam look with metallic accents. Whatever your choice, nail art will make you stand out from the crowd. You can wear them for any special occasion, and they can even match your toenails.
Florals are a perennial classic and never go out of style. For the warmer months, pastel and coral pastel gradients look great. Try accent nails accented with rhinestones or colored gems for a fun springtime look. Florals have been deemed 'groundbreaking' by Miranda Priestly and will last for some time. No matter your favorite nail design, there will always be a time for it.
If you are a novice, dotty nails are a great choice. These designs are easy to apply and look fabulous no matter what time of year. You can go monochromatic for a winter look or opt for bright neons for summer. Another fun option is linework. A linework pattern may be squiggly, swirly, or straight. Either way, it elevates the look of the entire nail.
Interpretations
Historically, black women have been denigrated for sporting colorful acrylic nails. A prominent white writer once asked Nikole Hannah-Jones if she had ever considered having her nails done. Three-time Olympic gold medalist Florence Griffith Joyner was also vilified for sporting jewel-studded nails. Today, it is common to see black women with acrylic-studded nails on US magazine covers and hoop-pierced nails on celebrities.
Nail art has evolved from a glossy finish to a textured finish. Today, nail art can be applied in matte, leather, or crackle finishes. The ring finger is poised to pass a glitter polish crown to the thumb. Nail art can be elegant, subtle, and fun, so don't be afraid to experiment with different styles and designs. You'll find that many women are going for dramatic and unique looks this season.
Discoloration of the nail plate is also used as a diagnostic tool. In some cases, the discoloration of a nail can help doctors diagnose conditions such as diabetes, liver problems, anemia, and lung disease. Various nail art designs can also help doctors identify skin cancers, including melanoma. Depending on their shape and size, nail discoloration can give insight into various diseases.
The variety of nail art designs is endless. The choices are only limited by your imagination! Nail art techniques range from tie-dye designs to bold, metallic, and even branded designs. The possibilities are limitless! Just about any format you can imagine is possible! In addition to painting your nails, you can add accents to them with nail stickers or enticing nail polish. You can even add a bit of sparkle by adding glitter to your nail design.
Applicability
There are many different types of nail art. The kinds of nail art vary greatly depending on the service the person seeks. Some nail artists only do certain types of nails, while others may offer various services. However, any service that provides nail art should follow proper health, safety, and hygiene procedures to ensure the client's safety. A service should also follow standard operating systems, including cleaning and disinfecting tools.
One of the challenges of in vivo 3D imaging of the entire fingernail is finding a method that does not produce motion artifacts. The technique is shown in Figure 6.