Anime-Inspired Nail Art
Whether you are a fan of Anime, painterly prints, or flowers and butterflies, you are bound to love Anime inspired nail art! These designs can add a splash of color to your nails while bringing an element of fantasy to your manicure. Here are some ideas for nail designs based on anime characters. Try a few of these designs yourself! You'll be amazed at the results! And, if you have trouble choosing a style, don't worry; I have a few great ideas to help you out.
Anime inspired nails
If you are a fan of Anime, you might be looking for some ideas on nail art. Anime nail designs are usually very detailed, with lots of eyes and sparkles. Choose vibrant or pastel colors for your plans, but keep the character's body shape in mind. Consider buying a press-on nail set if you have a smaller hand or don't have time to paint your nails. These designs can be removed easily afterward and are perfect for short-term use.
You might enjoy this design featuring characters from the cult popular manga series Naruto if you're an anime fan. The series revolves around a young ninja with dreams of becoming a village leader. Anime fans will appreciate this design, which features the red cloud, Akatsuki. The Akatsuki represents the blood that rained down in the village of Amegakure during the previous wars. The original members of the Akatsuki group used it as a symbol of justice. You can easily add glitter to the design to make it stand out.
If you are not sure where to start, you can check out Marie Nails' tutorial on how to paint around Pokeball. Another popular design is Elusorynils, which incorporates holo glitters and other elements.
If you are an anime fan, you may want to try a few different types of Anime inspired nail art. The Pokemon series offers many different nail designs that will boost your imagination. This is a fun way to express yourself. If you're looking for something more unique and creative, anime nail art is the way to go. You can even make your nails stand out with these designs.
Anime-inspired painterly prints.
If you love Anime, then Anime inspired painterly prints are the perfect way to show it off. These cute and detailed designs feature simple smileys, cartoon graphics, and even some of the most beloved characters from Anime. Whether you're looking for an attractive new design for Halloween or everyday wear, these painterly designs will surely get your attention! Hot Topic has the latest trends in nail art that will keep you looking great from head to toe.
If you want to go for a retro look, you can opt for a half-moon manicure. This design will complement long, oval nails perfectly. Anime-inspired nails look very childish, as they're filled with cartoon graphics and simple smileys, but are surprisingly detailed. Whether you want to make your nails more trendy, Anime inspired painterly prints will add a touch of anime flair to your manicure.
Anime inspired flowers
If you want a new look for your nails, why not try a design inspired by your favorite anime series? Whether a flower or a polka dot, nail designs based on anime characters are a great way to spice up your manicure. Try drawing a flower on your nails with a toothpick! If you aren't sure where to start, you can check out some of these easy nail art designs.
The hibiscus flower is a popular choice among Anime fans. The yellow hibiscus flower is Hawaii's national flower, and it represents happiness and good luck. This nail design is easy to achieve, and you can even get nail stickers to help you create this look. Anime lovers will love this design because it represents their favorite anime character! Whether you prefer nail art inspired by anime characters or not, you'll find a variety of nail designs to match your taste.
Anime-inspired flowers are also a great way to get a classic, retro look. Those with long oval nails are perfect for these designs. Anime-inspired flowers are playful and cute. Often, they have simple smiley faces and cartoon graphics. Other nail designs are more detailed, such as art attack painterly prints. Try nail stickers inspired by your favorite anime series if you're feeling more adventurous.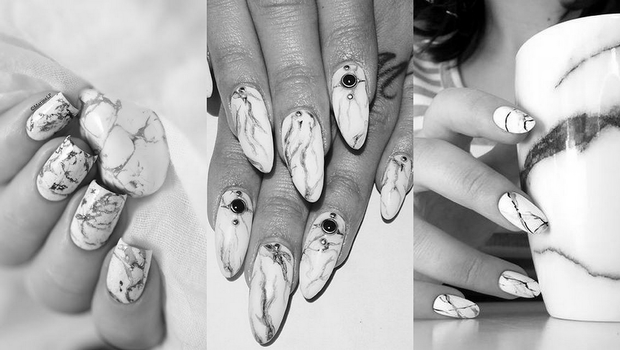 Anime inspired butterflies
If you love Anime, you may already know that Anime inspired butterflies are one of my favorite nail art designs. Butterfly nails are great for the summertime, and you can easily make them yourself at home! They can be an excellent gift for a woman's birthday or just a treat for yourself! These butterflies are an excellent choice for birthdays and are a perfect gift for female friends and family members. Keep in mind that these butterflies should not come into contact with any chemicals, so keep them out of reach of children. They should also be protected with two thin coats of nail polish to prevent discoloration.
Anime inspired clouds
Using a red cloud as a focal point can be a great way to bring a bit of Anime to your manicure. The Akatsuki cloud, in particular, represents the rain of blood in the town of Amegakure during wars. The original members of the Akatsuki group made the cloud a symbol of justice. It can also be accented with glitter to stand out from other designs.
A classic cloud nail design starts with a baby blue background, but you can also incorporate your favorite shade of blue. The clouds in this design can be small or large or can even be made to appear like twinkling stars. It's easy to create and won't require any special skills. The colors for your cloud nails can be as diverse as the Anime that inspired them. Whether you want to be inspired by an anime character or a classic style, this manicure will bring joy and inspiration to you.
The Japanese are famous for their unique and eccentric designs for their nails. The technique is becoming increasingly popular in India and is a popular way to show your love for Anime. These designs can be subtle and incorporated with colors, symbols, and faces. However, if you are not very good at applying and removing nail stickers, you can opt for press-on nail sets, available on Etsy. You can wear these for a short time and remove them without worrying about them falling off.
Easy Nail Art Designs For Beginners Without Tools
If you're a beginner and have no experience doing nail art, you can look into easy nail designs for beginners without any tools. Some examples of these nail designs include abstract squiggles, polka dots, and flower artwork. The possibilities are almost limitless! You can try your hand at these designs in minutes, and you'll be amazed at how quickly you'll become a master!
Easy nail art designs for beginners
There are several easy nail art designs for beginners to try out. These can range from flower paintings to polka dots. If you don't have the tools to create elaborate designs, you can use newspapers as a base color. You can also use a contrasting color if you'd like. Once you've made the design, you can use a top coat to seal it. It can also be customized according to your taste.
Emoji nail art is another easy design to try at home. This fun design is based on the popular emoji and is easy to create. All you need is a Ziploc bag and yellow nail polish. Then, you can use a dotting tool to draw a smiley face inside the circle. Repeat this step for each nail. For a fun effect, use multiple colors for your design.
Polka dot nails are another simple design for beginners to try at home. To create this fun look, you can use two different nail polish shades, bobby pins, and sponges. Use a contrasting base color, too, as this will prevent the dots from looking too sloppy. You can change the size of the dots as you wish, but you should aim for a minimum of 10 beads.
Daisy nail designs are another effortless and feminine design for beginners to try. Daisy designs are easy to create because they are simple shapes and don't require a lot of skill. You can highlight the flower bloom by using pastel colors, which are easy to wear and compliment any skin tone. Daisies look good on any nail shape and represent innocence and happiness. You can also try a Marc Jacobs-inspired nail design for a more sophisticated look.
You can create cute cloud nail designs using a bobby pin or a makeup sponge. To create a cloud design, you need a base coat of white nail polish. After you've applied two coats of nail polish, use your sponge to dab on the darker color of the clouds. Once you're done, you can use your bobby pin or white nail polish to create the clouds.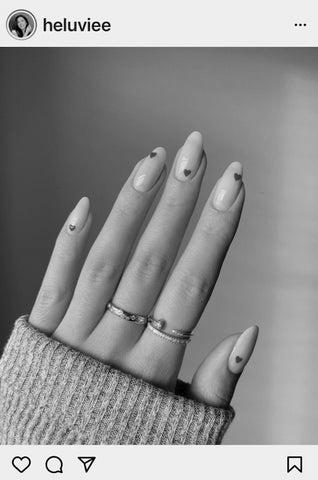 Another design for beginners is the ombre. This design involves layering two different nail polish colors, one dark, and one light. Rose demonstrates a sunset-orange ombre on her nails, which results in a chic upgrade on a single color. The technique requires two base coats and 10 minutes of drying time. Then you apply the ombre color with a sponge, applying it to the tip of the nail. Then, you seal the entire look by using the topcoat to protect it.
Easy nail art designs for beginners without tools
If you're looking for easy nail art designs for beginners without tools, you've come to the right place. These designs include flower artwork, abstract squiggles, and polka dots. These designs can also be done without tools, and you can create them in your own home. You can even seal your finished nail art with a Topcoat. Whatever your preferred design is, you're sure to find a plan that works for you.
To make the stripes, start by painting a thin layer of turquoise nail polish on your nail. Then, dip your fan brush in pink paint and run the meeting across the nail in horizontal stripes. Repeat the process for the other pin. Then, you've got an easy nail art design for beginners that looks just like the real thing! And if you're a little more advanced, you can add extra fun by using different contrasting colors.
Another easy nail design for beginners is a floral and leafy theme. These can be a little intimidating for some people, but the end result will look lovely. Before you begin:
Make sure you have clean nails.
Make sure you use a base coat to prevent the pins from chipping.
Apply a second layer of glossy nail paint.
Let it dry before you continue with the design.
For the leaves, use a toothpick or blue nail polish.
Dots are another easy design for beginners. A dot can be created with a simple bobby pin. You can use two different shades of nail polish and a bobby pin to make dots. Once the dot is dry, you can apply another layer of gold nail polish. If you're feeling adventurous, you can try this easy nail art design on your toes. Just make sure you wear rubber gloves to protect your hands from the chemicals used in creating nail art.
Another easy nail art design for beginners is polka dots. You can use any color you want, but polka dots are a great choice if you're a beginner. You can choose to do a black base and then use contrasting colors for the dots. Then, apply a top coat to make sure your design is secure. It's as easy as that! You can also make your nail art designs as intricate or as simple as possible.
Another fun, easy nail art design for beginners is a freehand manicure. This design is inspired by the popular emojis and is easy to do. You'll need a Ziploc bag or plastic bag to create this design. Paint the Ziploc bag with yellow nail polish since yellow is a standard color for emojis. You'll then need a piece of paper that fits inside it to create a stencil.
Simple nail art designs for beginners
If you're new to nail art, there are some simple designs you can try at home. One of these designs can be done without the use of any tools. To create stripes, you'll need a thin fan brush, or the base of a regular paintbrush can be pried off to make it resemble a fan. Start by painting your nails with turquoise nail polish, then dip the fan brush in pink paint and run it across the nail horizontally.
Another popular design is line art, which requires less precision and allows you to express your creativity. Because this design requires less precision, it's appealing to beginners and anyone who'd like to try their hand at making their own designs. There are many different types of line art with varying degrees of difficulty. A detailed outline of a woman's body will require more time, while a more abstract design with running lines and shades of color is easier to create. If you're looking to make your design a little more complicated, try experimenting with multiple colors. Try using a neutral color or one with a contrasting hue to create a more subtle look.
Another option is newspaper nail art. Another way to make this design is to use a stencil or a dotting tool. The technique is easy and can be done by beginners, but you should avoid over-detailed designs. A tip for beginners is to play with different colors and combinations of colors. Use complementary colors to create a unique or clashing color to create a fun look. You can also try color blocking and a modern take on the French tip. You can make abstract shapes in different colors with different sizes and shapes.
The clouds are another design you can try. They add color to the overall look and are easy to create. A classic cloud design uses baby blue for a background, but you can also add your favorite color. Clouds are considered a symbol of hope and dreams and can be paired with angels and rainbows to add a little flair. Another easy design is a cloud nail. The clouds can be as straightforward or as intricate as you want to make them.
A galaxy nail design can add pizzazz to your nails. You'll need black nail polish for the base, then a layer of black paint on top of it. Then, use a sponge to dab metallic green nail polish over it. After that, let the nails dry for about 30 minutes before applying the clear coat to complete the design. You'll be amazed by the result! And with no tools or fancy equipment, you can create these simple designs at home in no time.